ATLAS - Weeks 3, 4, 5 & 6 at Oxford Brookes University - January 2017
May 7, 2018
ATLAS, by Marie G. Losseau and Yann Deval, is an experience that mixes augmented reality and virtual reality.
Spectators are invited to build virtual cities using a « seed launcher ». Each launch causes a house to grow.
The growing houses follow some urbanistic rules, adapting to their environment. There are cities in the clouds, uprooted cities, cities on stilts, flying cities...
These cities take on a life of their own, with or without the interactions of users, just like living organisms...
The work allows you to create huge cities, in which you can wander and loose yourself.
It provokes a reflexion on urbanism, architecture, and their influence on our lifestyles.
It gives life to inanimate things...
The WEKIT team moved to a new building at Oxford Brooks in January, an opportunity to work more closely.
We began our research around the Mixed Reality medium with the question: what could be the relationships between physical space and virtual spaces?
We tried to transform the user's physical space into a map of his environment, changing his perspectives.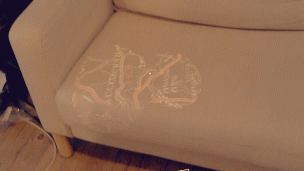 We discovered that the map helped a lot to create a link between physical space and holographic houses.
Technically, we had to program our own shaders to do this, using CG, the shader programming language by NVidia.
Another important thing was to think about how holographic houses can be hidden when they pass behind a physical object. This is relatively simple to do with Hololens tools, but adds real value and credibility to the experience.
The Hololens, by Microsoft, is a "developer kit", a prototype… The space where holograms are displayed is very limited, and that can often disrupt the feeling of immersion for the user...
We tried to use this limitation as a creative constraint: if we could change the limited rectangle that shows the holograms into an animated one, following your gaze with organic animations, maybe the limitations would appear more as a choice.
And it works...
For sure, it was not an essential change, but the feeling of frustration decreased, which really made it worth it.
Before, half of the participants mentioned the limited FOV (Field of View) after trying the prototype, but now only a few of them bring it up...
We wanted to create different "chapters", each one bringing you, the user, into another layer of virtuality.
Dividing the experience into chapters is perhaps an influence of literature on our work…
We had to find a way to animate the houses, to give them life, it was a fundamental part of our research. We chose to work with Houdini, a 3D software for procedural animations and simulations, that helped a lot to create organic movements…
The fact that Houdini is a procedural tool really sped up our working speed compared with when we use our regular tools (MeshLab or Cinema4d).
We integrated dozens of different houses, some of them built by Marie, some other built by 9-year-old kids during the Molenbeek MCCS workshops.
We also worked on how to build bridges between the Hololens experience and the VR experience. A way to make these bridges: by creating windows into the VR worlds...​
The outcome of the residency at this point is a functional prototype, a five minute MR (Mixed Reality) experience for a single user.
The prototype has been played at MCCS Molenbeek, for the 100 kids who participated in the project Classes Urbaines, and at SXSW (Austin/Texas) thanks to the European Commission who invited us to present the project.
A lot of ideas for the next chapters of the work are coming together during discussions with the Wekit team and Oxford Brookes University students…
These will be integrated in September during the next Oxford residency!
Credits:
ATLAS (prototype)
An experience by
Yann Deval & Marie G. Losseau
In collaboration with
WEKIT / Dr. Fridolin Wild (Oxford Brookes University) for the Mixed Reality part.
Kids from Molenbeek's schools 1, 5 and 10 for contributing to the building of the cities.
With the support of
VERTIGO STARTS program of the European Commission with IRCAM-Centre Pompidou and EPFL
Fédération Wallonie-Bruxelles
Cocof
Maison des Cultures et de la Cohésion Sociale de Molenbeek Saint-Jean
Fablab'ke
Wallonie-Bruxelles International
Programming, graphic design and music by
Yann Deval
Model making and scenography by
Marie G. Losseau
WEKIT (Oxford Brookes University / Performance Augmentation Laboratory)
Dr. Fridolin Wild
Alla Vovk
Will Guest
External contributions (Mixed Reality)
TriplanarWorld Shader by Robert Yang
SpatialMappingRendererWithNormals by Matt@DeckTwelve